Digital Marketing in Kenya
Digital marketing has radically changed the way businesses in Kenya reach and engage with their customers. Since most Kenyans have access to the internet and computing devices such as smartphones, tablets, laptops, etc, potential consumers usually research online for information about various products and services before they make a purchase. Therefore, traditional marketing cannot be the only strategy for businesses to generate sales. The essence of marketing is for businesses to connect with their target audience in the right place and at the right time. Businesses have to innovate on modern methods to meet their customers where they spend most of their time: online. 
This article will explore the various strategies of digital marketing in Kenya, providing valuable insights and best practices for businesses and individuals looking to succeed online.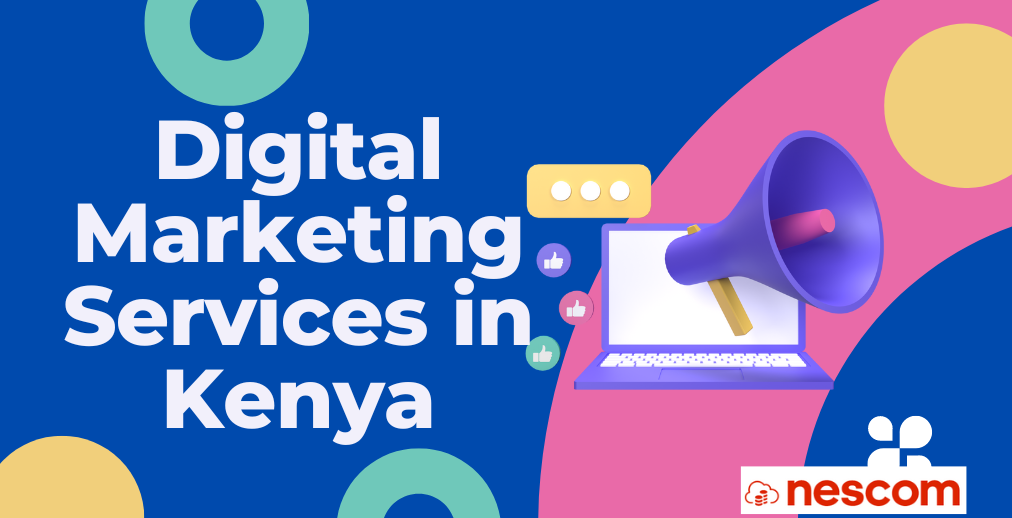 What is Digital Marketing?
Digital marketing, also called online marketing, is the promotion of products, services, or brands through the internet and other forms of digital communication channels. The digital channels that businesses use to connect with their prospective and current customers include social media, email, search engines, websites, mobile apps, and also texts and multi-media messages.
Fundamentally, all marketing efforts that involve the creation and dissemination of content through digital communication channels are digital marketing. 
Best Digital Marketing Strategies for Companies in Kenya
Digital marketers in Kenya employ a variety of strategies to attract, engage, and captivate customers across multiple digital channels, platforms, and devices. This seamless and integrated marketing approach is called omnichannel marketing or multichannel marketing. Omnichannel marketing provides a consistent customer experience across all customer touchpoints.
Established brands usually have budgets to drive multichannel marketing campaigns all year round. However, startups and small businesses can harness the power of online marketing by using the most effective and affordable marketing strategy. Content marketing and PPC, for instance, can provide a small business with incredibly consistent sales leads and revenue.
The following are some of the best digital marketing strategies used by  companies in Nairobi, Kenya: 
Content Marketing
Content marketing involves creating and distributing valuable and relevant content to target audiences. Quality content and SEO are the key to achieving success with content marketing. You have to create content that fits a specific audience, answer their questions, and ensure you cover all the topics in your industry.
When customers search online for topics related to your industry, they should be able to engage with your content through various digital channels. The purpose of content marketing is to build brand awareness, grow traffic to your digital channels (social media channels or website), generate leads and customers.
The common channels used in content marketing include:
Writing and publishing high-quality blog articles on your website consistently helps to build your brand within your business niche.
The more articles you publish on specific topics on your website, the higher the authority. Websites with higher topical authority rank better than those with poor quality or few articles. Ranking highly for relevant keywords in your business niche results in increased website traffic and sales leads.
Content writing can be done by an in-house team or you can hire a content writing agency in Kenya like Nescom Digital.
Long-form content such as ebooks and whitepapers helps to educate your prospective customers on your products and services. They guide the customer through the sales funnel and help to convert the prospect into a paying customer. Ebooks and whitepapers should be written by experts in your company who possess advanced technical knowledge of your products and services.
Infographics help customers to visualize concepts or data in an easy-to-understand method. Use infographics when you want to present data reports or complex concepts.
The use of audio and video content can be incorporated into your marketing campaigns to increase engagement and grab customer attention. 
Search Engine Optimization (SEO)
SEO is the most integral part of digital marketing. It is the process of optimizing your website to rank higher in major search engines such as Google, Bing, Yahoo, etc to increase website visitors and sales leads. SEO in Kenya is a constantly changing digital marketing strategy and customers have to be knowledgeable about the current trends and tactics. 
SEO can be approached in various ways to improve the rankings of your website and thereby generate qualified traffic to your site. These include:
On-page SEO is the optimization techniques and practices that are done on the website pages to improve their ranking in search engine results. It involves optimizing various webpage elements to make it user-friendly, relevant to the user and easier for search engines to understand. Some of the key on-page factors include but are not limited to keyword research, content quality, internal links, mobile-friendliness, etc.
Off-page SEO are activities, actions, or strategies implemented outside your website to increase your ranking and visibility in search engines. it involves creating external signals on other website platforms to establish your website's authority, trustworthiness, and brand reputation.
Off-page SEO factors include backlinks, social media engagements, and brand mentions. Local citations in review sites, Google My Business page, and directories also contribute significantly to improving your off-page optimization.
Off-page SEO requires current knowledge of search engine guidelines. 
Technical SEO is the optimization of the backend of your website to ensure search engine crawlers effectively crawl your website and index the pages. Some of the key elements to optimize include website performance, page speed, canonicalization, website security (SSL certificate installation and configuration), technical errors, etc.
Video Marketing
Video marketing is the use of video content to promote products,  services, or brands to specific a audience. Videos can be created and shared on websites, social media channels, or on Youtube channels. 
The benefits of video marketing are to increase customer engagement, improve brand awareness and generate sales.
Pay Per Click (PPC)
Pay-per-click or PPC is an online advertising strategy where advertisers pay publishers a fee each time someone clicks on their advert. PPC ads are displayed on search engine results pages (SERP), websites, or social media platforms. Google Ad is the most popular PPC platform where advertisers can buy targeted traffic to their website.
Other PPC channels include Facebook Ads, Twitter Ads, Linkedin Ads, Youtube Ads, Bing Ads, etc.
Email Marketing
Email marketing is one of the ways companies communicate with their customers effectively. It involves creating relevant content and sending it to specific email addresses to communicate product offers, company events, product launches, or updates.
Social Media Marketing
Social media marketing is the use of social media platforms to promote products or services and engage with the targeted audience. It helps to gain brand awareness, provide customer support and acquire new sales leads.
Affiliate Marketing
Affiliate marketing is performance-based marketing where advertisers receive a commission for promoting certain products or services on their channel.
It involves posting special links on social media channels or on website content to  convince visitors to click on them and eventually purchase the product on the merchant's website. 
Influencer Marketing
Influencer marketing involves collaborating with influential personalities or content creators to promote products, services, or brands to their audience.
Digital Marketing Agency in Kenya That Drives Results
More leads. More sales. More revenue.
Developing a Digital Marketing Strategy in Kenya
Devising a digital marketing strategy involves several crucial steps to ensure an effective and comprehensive approach. Below is a step-by-step guide to assist you create a digital marketing strategy:
Define Your Objectives:

You need to identify specific objectives for your digital marketing campaign.
You must also ensure they are specific, measurable, attainable, relevant, and time-bound (SMART).

Understand Your Target Audience:

Conduct market research to gather information about your target audience such as interests, demographics, challenges, and preferences.

Analyze Your Current Digital Presence:

You need to thoroughly analyze your current digital channels such as your website, social media handles, etc.
Assess their performance and note the aspects or elements that need improvement.

Identify Key Digital Marketing Channels:

Determine the digital marketing channels that align with your target audience and goals such as blogs, social media platforms, email marketing, etc.

Develop a Content Strategy:

Create a content strategy that supports your goals and resonates with your target audience.

Implement Search Engine Optimization (SEO):

You need to do on-page SEO, off-page SEO, and also technical SEO

Conduct Paid Advertising Campaigns:

Determine if paid advertising is suitable for your strategy and budget.
Choose platforms such as Google Ads, Facebook Ads, Twitter Ads etc.

Implement Social Media Marketing Campaigns:

Establish a strong presence on relevant social media platforms such as Facebook, Instagram, Twitter, etc.

Incorporate Email Marketing:

Build and nurture an email list of interested subscribers.

Measure and Analyze Results:

Use web analytics tools and platform-specific insights to measure the performance of your digital marketing efforts.
Track key performance indicators (KPIs) such as website traffic, conversions, engagement, and ROI.

Regularly Optimize and Adapt:

Continuously monitor and optimize your digital marketing strategies based on data and insights.
Conclusion
Digital marketing in Kenya is a cost-effective way to build brand awareness, engage customers and generate leads to grow your business. If you need help getting started with a digital marketing campaign, get in touch with our Nescom Digital team.
Digital Marketing in Kenya- FAQs
What is Nescom Digital?
Nescom Digital is the digital marketing division of Nescom Technologies. The digital agency promotes products and services for clients through cutting-edge marketing strategies such as content marketing, SEO, PPC, etc.
Why is digital marketing important?
Digital marketing is important for several reasons:
Global reach - Digital marketing allows businesses to access markets or customers beyond their geographical boundaries.
It allows businesses to target specific customers through personalized marketing campaigns.
It is cost-effective than traditional marketing.
Digital marketing results  and performance are measurable through online tools.
Digital marketing improves your conversion rate.
It is flexible and allows businesses to make changes to their marketing strategies on the go.
What are the types of digital marketing services offered in Kenya?
There are various types of digital marketing services offered by agencies in Nairobi, Kenya such as content marketing, search engine optimization, email marketing, affiliate marketing, and pay-per-click advertising.
How much does digital marketing cost in Kenya?
The price of digital marketing services depends on factors such as the type of services and package customers select. Small and medium enterprises spend around Ksh 50,000 to Ksh 1,000,000 per month for expert online marketing services.
How can digital marketing services assist businesses in Kenya?
Digital marketing services can help businesses with:
Creating valuable content for ebooks, whitepapers, blogs, newsletters, etc.
Increasing website traffic through SEO strategies.
Creating and managing PPC ads such as Youtube Ads, Google Ads, etc.
Helps to build an online presence using digital assets such as websites and social media profiles.
Engaging customers and providing timely support from multiple digital channels.
How do I choose a digital marketing agency in Kenya?
In order to choose the best digital marketing agency in Kenya to help your business in any marketing campaign, you should consider the tips below:
Define your goals: Define your marketing objectives you need to achieve. 
Expertise and services: Assess the marketing agency's expertise and range of services. Some digital marketing companies offer a wide range of services while others like Nescom Digital only specialize in a few strategies.
Experience and track record: Consider the digital marketing agency's experience and track record in your industry.
Client testimonials: Look for client testimonials and reviews to get a rough idea of the digital marketing agency's reputation and quality of work.
Scalability and flexibility: Consider whether the digital marketing agency in Nairobi, Kenya can accommodate your company's growth and changing needs.