Cheap Domain Registration in Kenya
Domain registration in Kenya is an important step for any company or organization in building its online presence. It secures the unique identity of the brand in the online space. After registration of a domain in Kenya, a website can be set up on a hosting account or web server. Custom email addresses can also be set up using the domain name. For instance, if the domain name is nescom.co.ke, email addresses such as info @ nescom.co.ke or sales @ nescom.co.ke can be created which are professional compared to free email addresses provided by Gmail or Yahoo.
What is a domain name?
By definition, a domain name is a website address. It is what the users type in the Uniform Resource Locator (URL) bar to access your website on the internet. Every domain name is unique and cannot be shared with any other site, for instance, our domain name is nescom.co.ke.
Websites consist of data files and databases which are hosted on web servers or computers.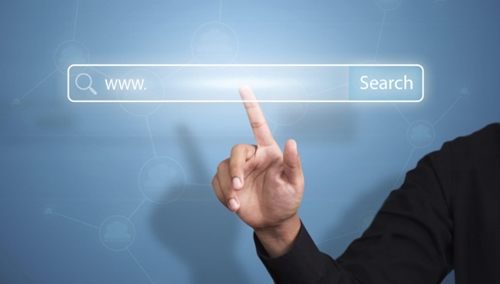 Each web server has a unique IP address that is used to access it. When users type the domain name in the URL search bar of a browser, the computer sends a request to a set of Domain Name System (DNS) servers on the internet. A DNS server system consists of Recursive resolvers or DNS recursor, root nameservers, TLD nameservers, and authoritative nameservers.The DNS server responds to the computer browser with the IP address of the hosting web server of that particular domain name. The browser then uses the IP address to send HTTP/HTTPS requests to that webserver or website.
Nescom offers cheap domain name registration in Kenya. Through our online platform individuals, SMEs, established enterprises, and NGOs and government institutions can register  .co.ke, .com, .net, .org, and .africa domain names at an affordable price. The registration process is automated and takes just a few minutes.
A domain name gives a business exclusivity to the brand name which is important in setting up a website or custom emails.
If you are looking for a cheap .co.ke or .com domain name, you are at the right place. We have also made available thousands of domain extensions that you can use to secure your online brand name. Buy domain names today at a cheap price from Nescom.
Buy Domain Names in Kenya
Buying a domain name in Kenya is a straightforward process that takes just a few minutes of your time.
Follow the steps below to register your domain name in Kenya:
Type your chosen name in the domain name checker.
If the domain name is available, click on 'Add to Cart' next to your selected domain name and then Checkout.
Configure Nameservers . Nescom nameservers are always auto-filled. 

Complete the secure payment process. You can choose to pay using MPESA or a debit/credit card. More payment options will be introduced soon.

Remember to select DNS Management, Email forwarding, and Whois protection if need be.
You will receive an email confirming the payment.
Login to manage your domain name
With Nescom, you can register a .co.ke domain at only KES 1000 per year! Check out our comprehensive guide on domain prices in Kenya.
Types of Domain Names
Before you register a domain name in Kenya, you should first understand the various options available to you. Not all domain types are ideal for your brand. Some domain extensions are just for vanity and not useful to lay a foundation for your online presence.
Domain names can be divided into five distinct categories based on domain extensions:
1. Top-Level Domains (TLD)
Top-level Domains (TLDs) can be regarded as being first in the hierarchy of domain names on the internet. The first TLDs released in 1985 by The Internet Assigned Numbers Authority (IANA) consisted of .com, .net, .gov, .biz, .org, .mil and .edu. However, the organization that manages domain names, ICANN (Internet Corporation for Assigned Names and Numbers) released more TLDs, to make it easier for individuals to find available domain names.
2. Country Code Top Level Domains (ccTLD)
Country Code Top Level Domains (ccTLD) are tied to specific countries. They signal that the website owner is targeting a specific country, for example .co.uk for the United Kingdom, .jp for Japan, .co.ke for Kenya etc.  In case you need to register a co.ke domain name, Nescom Kenya is a perfect choice!
Some country code top-level domains have found international usage outside their assigned geographical regions. These includes:
.IO  – The country code top-level domain .io is nominally assigned to the British Indian Ocean Territory. It has become popular in the tech industry because I/O is a computing terminology that means input/output.
.CO – Nominally assigned as a ccTLD for Columbia which is a country in South America. It has become a de facto alternative to .COM TLD because of the similar syllable "co".
.IT – The .it is the ccTLD assigned to Italy. However, it has become popular in the information technology industry because of the similar initialism "IT". The registrant must be an individual, organization, or resident in the European Union (EU).
.TV – The .tv ccTLD is assigned for use in the Pacific island of Tuvalu. However, it has found usage in the entertainment industry and particularly in the television sub-sector.
.AI – Initially assigned as the country-code top-level domain for Antigua and Barbados, .ai has become a favorite TLD in the artificial intelligence and machine learning industry.
.GG – This is the country code top-level domain assigned to Guernsey, one of the Channel Islands in the English Channel near the French coast. The .gg domain has become popular in the gaming and esports websites because of the initialism GG which means "good game" or "gaming group".
.ME – This is a ccTLD assigned to Montenegro, which is a mountainous country in Southeastern Europe. It has however become popular with personal identity websites worldwide.
.IM – The .im is assigned as the country code TLD for the Isle of Man, which is a small island in the Irish Sea. It has found use in personal branding domains and link shorteners.
.FM – This is the official ccTLD for the Federated States of Micronesia. It has been adopted as a TLD in the radio industry because "FM" is the acronym for Frequency Modulation.
.VC – The .vc is the ccTLD for Saint Vincent and the Grenadines. It has found use in the Venture capital, video conferencing and also tech industries.
3. Generic Top-Level Domains (gTLD)
Within the DNS, Generic TLDs function as a sub-category of Top Level Domains. We have about 21 generic top-level domains within the root zone out of the over 1400 gTLDs. The sub-categories are:
Generic (.info, .com, .net, .org), used for general purpose
Sponsored (.gov, .int,.edu,  .mil, .aero, .cat, .travel,.tech, .asia, .mobi), used for business websites within that category
Infrastructure (.arpa), used for DNS infrastructure
Generic restricted (.biz, .pro, .name), restricted for specific purpose
 4. Second-Level Domains (SLD)
The second-level domain is what precedes the TLD in a URL. For instance, nescom is the SLD in nescom.com. SLD is what people will associate with your website. It's important to take time and choose the perfect brand name/project name for your website.
We also have country code Second-level Domains (ccSLDs) such as .co.uk, .gov.au, .co.ke
5. Third Level Domains
Third-level domains are below the second-level domains in pecking order of the domain name. For instance, www is the third-level domain of the domain name www.nescom.co.ke .
Sub domains also fall under this sub category. They are useful in creating a blog, hosting an app, creating an online store or hosting a knowledge base or resource center for your users.
Which Second-Level .Ke Domain Names are Available for Registration in Kenya?
If you are looking to register second-level .ke domains, then you are the right place. Nescom offers .ke domain registration at a cheap price. The following are the .ke second-level domains you can register:
.co.ke – The .co.ke domain is ideal for commercial purposes
.me.ke – It's recommended for personal websites, blogs
.go.ke – The .go.ke domain is strictly assigned to the government of Kenya institutions
.ke – This is a top-level domain in Kenya with unrestricted use.
.sc.ke – This domain is assigned to schools
.or.ke – set aside for non-governmental organizations
.ac.ke – This domain is assigned to colleges, universities
.ne.ke – The .ne.ke domain is assigned to network service providers
Requirements to Register a Domain Name in Kenya
When you are ready to register a domain name in Kenya, you will require the following things:
Names of your business or proposed brand/project name that you intend to use on your website
A valid email address.
Domain registration fee. To buy .co.ke domain through Nescom, you will need only KES 1000. Other domain extensions may be cheaper or significantly costlier than a .ke domain
How to Choose the Perfect Domain Name
There are a few things you need to consider before you register a domain name in Kenya.
Choose The Right TLD
Before selecting any Top-Level Domain (TLD) extension for your domain, you should consider your target audience or purpose of your website. If you are targeting a global market/audience, a ".com" TLD will be perfect. On the other hand, if you are targeting Kenyan customers, a ".co.ke" ccTLD will a good choice. A ".org" TLD is appropriate for non-governmental organizations. 
Keep it Short and Simple
Another thing to consider is to always keep it short and simple or generally choose a memorable domain name. A  domain name is simply your brand for the website. It is recommended to first register the name as a company and then, later on, register the domain name for legal reasons. 
Ideally, a domain name should not exceed 2 or 3 words so that it is easier for your website visitors to remember.
Use your name for Personal Blogs
If you intend to run a personal blog, you can register a domain name using your official name or alias. When the blog becomes popular, your name becomes a recognizable brand in your specific field of specialization. A good example is https://neilpatel.com which is a personal blog on digital marketing. 
Ensure your Domain is Unique.
You should also avoid exact match domains because they are not memorable and also Google had issues with them due to keyword stuffing. Partial match domains are highly recommended. An example of exact match domain is websitehostinginkenya.co.ke. However, there are countless examples of websites with exact match domains that work perfectly.
It is common practice to include your registered company name in your domain name. 
Avoid Hyphens, Numbers and Doubled Letters
Avoid domain names with numbers and numbers. This more often than not confuse potential website visitors. 
Doubled letter and numbers makes it frustrating for customers to type the domain name. This might hurt the perceived credibility of your website and business.
Make It Relevant to the Site Content
You should consider a domain name that is relevant to the site's content. For instance, if your content focuses on Kenyan food recipes, BestKenyanrecipes.co.ke can be a great website name.
Avoid Misspellings
Domain names that have misspelled words raises suspicion and dents the credibility and reputation of a website. As a matter of fact, it lowers the conversion ratio of ecommerce website. 
Avoid Slang words and Funny Abbreviations
Avoid slang in your domain names such as "4" instead of four, "U" instead of "You", "Skul" instead of "School". 
Use a Domain Name Generator
Choosing a good domain can be time consuming and frustrating. You can use domain name generators such as Nameboy, Domainwheel or use a company naming agency such as Squadhelp. 
What to Consider Before Buying a Domain Name
If you are buying a domain name that has never been used before, you can simply follow the tips above to generate a good domain name. However, some domain names have been used before and later abandoned by their owners. In as much as they available for anyone to buy and register them, you should do a little homework on the domain name.
Check for Registered Trademarks
Before you buy a domain name, make sure that the domain name is not a registered trademark for any brand, company, organization, or individual.
According to ICANN domain registration rules, the owner of a trademark owner can submit a complaint to claim a domain name that is identical to its trademark. However, there's an elaborate dispute resolution procedure that must be followed. 
You can search for trademarks in the United States Patent and Trademark Office's database for US-registered trademarks or in the World Intellectual Property Organization's database. World Intellectual Property Organization (WIPO) is the UN specialized agency with a global mandate to promote and protect intellectual property across the world. Their database contains all trademarks, service marks, copyrights, and patents registered in its 193 member states.
According to The United States Patent and Trademark Office (USPTO), having a trademark does not mean you legally own the word or phrase and can block people from using it. Trademark owners only have rights to the word as used with specific goods and services. 
Check for Whois Records of Previous Owners
You should also check the previous owners of the domain name. There are many online tools online, but we recommend WhoisXML API and DomainTools for comprehensive Whois historical data. This data will show you when the domain was registered, renewed, dropped, DNS, hosting changes, and also other important domain registration data.
Check for Historical Usage of the Domain Name
It is important to also check the previous websites that were used on the domain name you want to buy. Wayback Machine has an archive of over 805 billion web pages and can show snapshots of previous websites. You will be able to tell if the previous websites were used for ordinary websites or nefarious activities.
Check for the Domain Health
Lastly, check for the red flags on a domain such as DNS issues, DDos attacks, blacklisted IPs, etc. MxToolBox is a popular domain tool that is capable of checking all domain health elements.
How To Change Your Domain Name
Sometimes mistakes like misspellings happen when customers type domain names during the registration process. However, it's not possible to change the domain name until it expires. The only remedy in such a situation is to register the domain name in Kenya afresh and discard the misspelled name.
In case you have registered a .com or .net domain name, you can register a different extension such as .co.ke. 
Registering More Than one Domain Name
If your business is targeting more than one country, it is advisable to register more domain extensions to protect the brand in those countries. For instance, you can register a .co.ke domain to cater for customers in Kenya, .co.za for Tanzania, .co.za for customers in South Africa, etc.
Besides, you can register more than one domain name but use different domain extensions to create additional websites for your business, set up a blog, etc. However, this strategy requires additional hosting resources and is also costly when creating unique content for each website. 
Why Nescom is the Best Domain Registration Service in Kenya?

24/7 Expert Support
You can reach out to our knowledgeable customer support agents 24/7 via telephone, live chat, email, or ticket. Our friendly and experienced team of domain name registration experts is committed to your online prosperity.

Easy Domain Setup
You can set up your domain name without any technical skills through our registration system. Besides, all web hosting plans include provision for domain name registration.

Domain Locking & Forwarding
Domain locking helps to prevent unauthorized transfer or theft of domain names.

Multi-Year Registration
Register or renew your domain name for up to 10 years before expiry. This ensures you don't lose your valued domain name when they expire.

FREE Domain Privacy Protection
You can keep your real identity private when registering your domain name. Details such as your name, address, and phone number can be hidden from the public.

FREE Domain transfer
Transfer your domain names to Nescom free of charge. Our renewal prices are the cheapest in Kenya
If you need to buy and register a cheap domain name in Kenya, Nescom is the right choice! Get started today using easy steps.
Domain Registration in Kenya – FAQs
Where can I buy domain names in Kenya?
Domains are registered through an accredited registrar either in Kenya or other countries. The process can be manual or automated by a registration system. To buy domain names in Kenya, simply type the desired name in the search field on this page and add the available name to the cart. Proceed to add name servers and make the payment. Your domain name will be registered instantly.
Can I permanently register a domain name?​
No, domain names can only be registered for a specific period, up to 10 years. If you intent to use the domain name for a long time, you have to ensure the domain name is renewed immediately after it expires. Or else someone else can grab it legally when it becomes available.
How do I Choose the Best Domain Name?
Depending on your objectives, you can register a domain name for your business, your blog, or just any unique name you want to own.
How much does it cost to register a domain name?​
Domain prices in Kenya depends on the extension; for instance .co.ke domain names cost Ksh 999 while .com domain names cost Ksh 1300.
How can I get a free .co.ke domain name?
Nescom runs promotions for free domain names and hosting services from time to time. Keep checking our website and our social media handles for lucrative discounts and promotions. Alternatively, you can buy .co.ke domain at the cheapest price in Kenya through our website.
How can I pay for a domain name in Kenya?​
Nescom offers a variety of payment options - MPESA, credit card, cash, cheque, bank deposits, etc.
What happens to a domain name Expires?
Domain names in Kenya have expiry dates. You can register a domain name up to 10 years. However, when you don't pay for your domain name in Kenya on time, it goes through an expiration process, then its deleted. Once it is deleted, it will be available to any customer on a first come first served.
How long does it take to access my domain online after registration?​
It takes up to 24 hours for the DNS server systems to propagate the domain name around the world. You will be able to access the domain name online, once its DNS records are properly updated online.
I have a domain name with a different registrar. Can I transfer it to Nescom?
Yes. You can transfer any domain name registered at a different domain registrar to your Nescom hosting account. Simply unlock your domain name, get an authorization code (EPP code) and verify your contact information. The process may be free or cost a certain fee depending on the domain extension type.
Can I use my domain name to create custom emails?​
Yes. Creating custom emails is recommended for business communications. Login to the Cpanel hosting account and navigate to the Email section. Select create emails, and choose your username and password. You can access the emails using webmail clients such as Roundcube or standard mail clients like Outlook.