SSL Certificates In Kenya | Buy Cheap SSL from Nescom
Nescom offers the cheapest SSL certificates to clients in Kenya, UK, Canada, US, South Africa,
Nigeria
and beyond. Some of the SSL brands we sell are listed below:
What is an SSL certificate?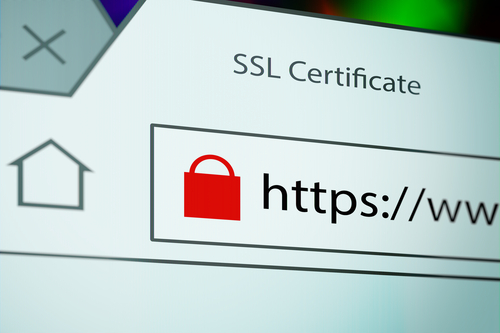 An SSL certificate verifies a website's identity and creates an encrypted connection. Short for Secure Sockets Layer, SSL is a security protocol that establishes an encrypted connection between a server and a client – usually a web server and a browser, or a mail server and a mail client (such as  Mozilla Thunderbird or Microsoft Outlook).
It is important for businesses or website owners to install SSL certificates on their servers in order to keep customer information such as credit card numbers, emails or passwords private and secure. Under normal circumstance, data exchanged between a web server and a browser is in form of a plain text which can be intercepted or altered easily by an attacker.
When a website has a valid SSL certificate, a padlock icon is displayed on the left side of the URL address bar, which simply shows the connection to the website is secure. Furthermore, SSL-secured sites will display "https" address rather than "http." A website owner or host must prove the domain ownership to the certificate authority in order to receive an SSL certificate. This ensures authenticity of the website or web server identity and prevents cyber attackers from setting up fake websites to trick users and steal their data.
Why you need an SSL certificate?
SSL certificates in Kenya have become an essential part of websites or online systems because they help in authenticating the website ownership, keeping the data private and secure and also preventing cyber attackers from stealing customer data by imitating real sites. 
Customers trust websites that are SSL-enabled when they are required to submit sensitive details such as their full names, date of birth, credit card information etc. Web browsers use http and https internet protocols to transmit and receive data on the internet. Data sent through https is secured using TLS (Transport Layer Security), which offers three layers of protection – encryption, data integrity and authentication. Websites which are not HTTPS enabled are marked "website not secure" by most web browsers and thus lose trust in the eyes of the website users/customers. Customer conversion can also be improved through installing an SSL certificate which boosts sales in the case of ecommerce sites.
Websites with SSL certificates have higher rankings in major search engines such as Google, Yahoo and Bing. Website visitors will generally be more attracted to visit secure sites than those which are deemed not secure.
Types of SSL Certificates in Kenya
We have six main types of SSL certificates that we sell based on validation levels. The six main types are:
How to Buy an SSL certificate
There are various SSL providers in the market who offer SSL certificates and other web security tools such as site seals, anti-malware scanners etc.
SSLs can be obtained directly from Certificate Authority (CA) also known as Certification Authority that issue millions of SSLs per month. We also have other SSL distributors and value-add resellers or partners who buy SSL certificates in bulk and are able to sell the SSLs at a cheap price.
Nescom works in partnership with major Certification Authorities such as Digicert, Sectigo, GeoTrust etc to offer SSL certificates to clients in Kenya and beyond. We also work with major SSL distributors who offer not only cheap SSLs but also other important web security tools such website security scanners, code signing certificates, Email signing certificates, CodeGuard backup etc.
SSl certificate price range from free to hundred of dollars, based on the brand and level of security required. When you have made the decision on the type of SSL you need for your website or web server, you can subsequently look up on the Certification Issuers (Certification Authority, distributors or value-added partners) which provide the SSL certificate at the level of security and cost that you want.
Below are the general steps involved in getting the SSL:
Firstly, get your website or web server set up properly and check the WHOIS record to ensure no errors and the details you submit to the Certificate provider is correct (name, address, email etc)
Next step is to generate the Certificate Signing Request (CSR) on your server or web hosting account. The process creates a private key and public key on your server. This is a relatively straightforward task if you use popular control panels like Cpanel. However, your hosting company can help you on this.
Send the CSR to the Certificate Authority/provider to authenticate the ownership of the domain and organization details.
Once the validation process is completed, install and configure the certificate on your server/web hosting account.
The timeframe of obtaining the SSL certificate depends on the validation process selected and the certificate provider you are buying the SSL certificate from. A Domain Validation SSL certificate will typically take less than 10 minutes to be issued, but on the other hand an Extended Validation can take up to 10 working days.
When you need to buy SSL certificates online at the cheapest price, Nescom is the right place.
How do SSL certificates work?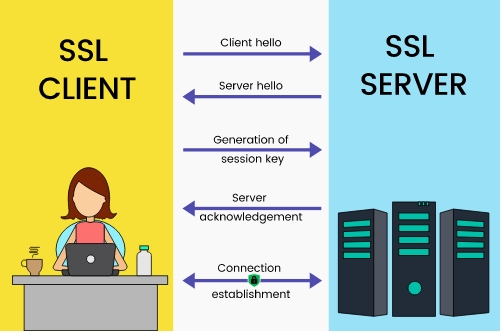 SSL certificates ensure data send or received between two systems, users and websites is encrypted. by using encryption algorithms, data transmitted over a connection is scrambled making it difficult for hackers to read it. 


Generally speaking, ecommerce or large organizations websites transmit sensitive user information such as name, address, telephone, credit card details which needs to be kept private and secure.
A browser makes a connection to a website or web server secured with SSL (https).
Browser makes a request for the web server to reveal its identity.
In response, the web server sends a copy of its SSL including the server's public key.
Browser checks the SSL certificate through the trusted list of CAs and also checks if the certificate is expired, revoked. If the browser trusts the certificate it establishes, encrypts  and transmits back a symmetric session key using the server's public key.
Server decrypts the symmetric session key using the private key and returns a digitally signed acknowledgment to commence the encrypted session.
The server and browser now exchange encrypted data using the session key. 
This encryption process which happens instantaneously is also referred to as "SSL handshake".
HTTPS (HyperText Transfer Protocol Secure) always appear in the URL bar when a website is properly secured by an SSL certificate. An unsecured website will have HTTP in the URL bar – meaning the connection is not secured. Most browsers like Chrome will even block users from accessing an unsecured website with glaring warnings.
A padlock will also be shown in the URL address bar which signals to a trustworthy and secure website. In order to check the website's SSL certificates, click on the green padlock in the address bar. The SSL details that will be shown will include:
The domain name the certificate is issued to
Organization or individual its issued to
Certificate Authority
Serial number
Version number
Date of issue and expiry
Public key
Associated subdomains.
Certificate Authority's digital signature
Using an SSL certificate on Multiple Servers
You can use an SSL certificate on multiple domains on the same server. Furthermore, its possible to use one SSL certificate on multiple servers. This type of SSL is known as Multi-Domain SSL certificate.
The number of multiple domains that work with Multi-Domain SSL certificate depends on the SSL vendor / Certificate Authority. 
Multi-Domain SSL certificate are also known as SAN certificates. SAN is an acronym for Subject Alternative Name. Multi-domain certificate have additional fields (SANs)  which are used to list additional domains to be secured by the certificate.
Wildcard SSL Certificates and Unified Communications Certificates (UCCs) also allow multiple-domains, the former also allows unlimited sub-domains.
This is what happens when your SSL certificate expires
What happens when your SSL certificate has expired?
When a user logs into  website whose SSL certificate has expired, they will see a warning "Your connection is not private." The data transmission between the client's browser and server will not be encrypted and therefore it will be sent as plain text which can be read by anyone.
It is important to renew the SSl before expiration. Small business owners can periodically check the SSL validity manually. However, large corporations need to use certificate management platform to manage all their digital certificates in one place. 
If you need to purchase cheap SSL certificates in Kenya for your websites, you are in the right place. Place an order online and you will receive the certificate data files shortly. This is only applicable to Domain Validation (DV) certificates.