WordPress Hosting in Kenya
Are you looking for the best WordPress hosting in Kenya? If that is the case, then you've come to the right place. Nescom is a popular choice for customers who need fast, reliable and cheap WordPress hosting services in Kenya.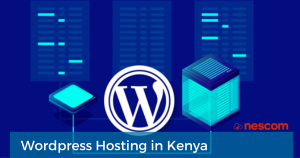 WordPress is an excellent content management system (CMS) you can use to launch a professional website, ecommerce site or blog. It has a user-friendly dashboard, customizable themes, and extensive plugin options. With over 40% of websites on the internet powered by WordPress, it's undoubtedly a recommended choice for both beginners and pros in website development.
Our WordPress hosting plans come with all the premium features you need to build a successful online presence. From easy one-click installs to automatic updates and backups, our WordPress web hosting in Kenya handles all technical processes so you can focus on accelerating your business growth.
Our data centers in Kenya, Europe, Singapore and the United States, ensure lightning-fast loading speeds for your website pages. If you're ready to upgrade your business website or blog to the next level, choose Nescom for the best cheap web hosting in Kenya.
Choose Your WordPress Hosting Plan
Benefits of WordPress Hosting in Kenya
User-Friendly Interface
One of the advantages of WordPress hosting is the user-friendly interface. WordPress is known for its intuitive and easy-to-use dashboard, making it even ideal for first-time users with no technical knowledge. With WordPress hosting in Kenya, you get dashboard that your content writers and website developers can easily use to manage your website in a efficient manner.
Easy Customization
WordPress offers an extensive library of free and paid themes and plugins that can be used to customize websites depending on specific needs. This can help your business to create a unique online presence that stands out from the competition. 
Improved Performance
WordPress hosting is configured to cater to the unique requirements of WordPress websites. This implies that the hosting environment is optimized for WordPress, resulting in improved website performance. With WordPress hosting, you can experience the fastest loading speeds and improved uptime. This creates a good user experience for website visitors which increases conversion rates and customer retention.
Enhanced Security
Website security is one of the critical aspects of hosting websites or applications. WordPress hosting providers in Kenya have advanced security features to prevent malware attacks and hackers. By using Nescom to host your WordPress website, you can rest assured your data and files are safe and secure.
Why Choose Nescom for WordPress Hosting
Nescom WordPress hosting offers fast and high performance platform with 99.99% uptime, professional web server monitoring, 24/7 customer support through ticket system, Whatsapp, phone call, emails etc.
If you need to buy the WordPress hosting service in Kenya, Nescom is the best choice.