Best SEO Content Writing Services in Kenya
Hire Expert Content Writers in Kenya to Create High-Quality SEO Articles.
Grow your business with our effective content writing services.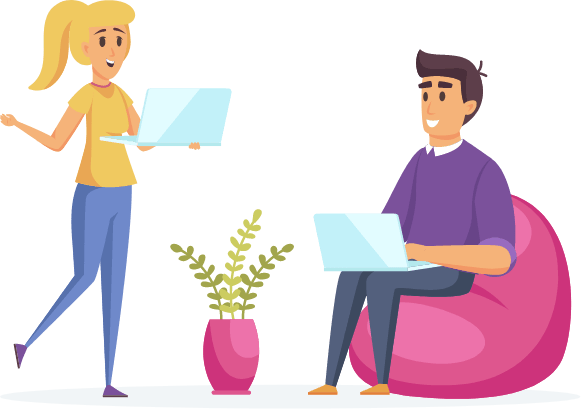 Creating high-quality content that is SEO-optimized enables your website to rank highly for target keywords in your niche. Ranking highly for relevant keywords generates organic traffic, which in turn converts into valuable sales leads. Therefore, creating consistent website content directly influences your bottom line and enables you to build up a reputation in your niche market. Nescom Digital is the digital marketing agency that offers keyword research, content strategy development, content creation, and content marketing. If you are looking for an experienced content writing service in Kenya, you are at the right place.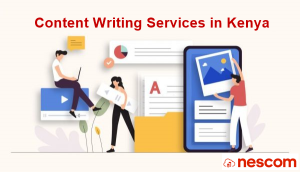 Content writing is the process of planning, writing, editing, and publishing content on the web that meets search engine optimization (SEO) guidelines. The written content may include product descriptions, blog posts, website copy, press releases, video or audio scripts, whitepapers, ebooks, social media copy, etc.
Fundamentally, content writers are the storytellers of your business or brand. They create valuable and insightful content that engages the customers and seamlessly guides them through the sales funnel. Great website content sells your credibility, trustworthiness, and expertise to your target audience.
Content writers help to create your brand's voice or enhance it. Brand voice is a unique personality your organization adopts in all communication channels. Since the digital landscape in Kenya is crowded and noisy, your brand's voice helps you stand out.
Content Types We Offer
Blog Posts
A properly set up blog can be used to build brand awareness for your business. Whether your business model is B2B or B2C, writing high-quality blog posts that are SEO-optimized is very effective in improving the overall authority of your website in your niche market and also building a long-lasting relationship with your customers. 
It can be challenging for some businesses to create an actionable content strategy that brings results. That is why Nescom writers are here for you. We help you to enhance your brand's voice and engage with prospective and existing customers. Blog posts can be written in short-form or long-form, depending on your business niche. We use advanced SEO tools such as SEMrush, Ahrefs, and Google Analytics to generate content ideas for your blog. 
We will write original and well-researched blog posts as per your requirements and optimize them to conform with the current search engine guidelines.
Product Descriptions
When running an e-commerce shop, it is important to come up with original and convincing product descriptions that can rank for your relevant search terms. Copying and pasting descriptions from other e-commerce sites or vendor websites will only harm your site's performance. Get well-researched product descriptions from Nescom Digital that are well-structured and optimized to rank better than your competitors. We can also source high-quality stock photos to make the product description more appealing to your customers. 
Website Copy
Website copy is the core text on your website that describes or narrates what your website is all about. They consist of top-level pages on your website, such as the home page, about us, product and services pages, contact us, etc. 
Since these are the first pages a potential customer interacts with on your website, they must be concise, compelling, and optimized for your main search terms. You must therefore make the first impression that your brand can offer value for that customer. Get accurately written web copy for your landing pages from Nescom. Whether your business is in the medical, technology, legal, hotel, finance, retail, or construction, our content writing company in Nairobi, Kenya has got you covered!!
Social Media Posts
Social media marketing is an easy way to engage with your customers, build a long-lasting relationship with your audience, and also sell your products and services. Creating social media content that converts can be a daunting task for most businesses. Hire content writers from Nescom Digital to handle your social media content as you focus on your business.
As a trusted content writing company in Kenya, we will research and come up with relevant content ideas and write original social media posts that can be shared widely. Build massive inbound traffic to your social media handle with our high-quality post
Improve your Search Rankings, Get More Traffic & Convert Your Website Visitors into Paying Customers!
Why Choose Nescom for SEO Content Writing in Kenya
Professional SEO Content Writers in Kenya
Nescom hires professional SEO content writers in Nairobi, Kenya who are highly experienced and possess relevant knowledge in their specialized fields. Our professional writers are committed to delivering excellent content for your websites. We will follow your instructions or requirements and deliver quality articles beyond your expectations.
Fast Delivery
Websites require fresh and quality content to be published regularly. A good rule of thumb for maintaining websites is to ensure you post a few articles on your websites every week. Websites without fresh content generally perform poorer in terms of ranking, traffic, and conversion. 
We will deliver your content writing orders within a specified time frame without much delay
High-Quality Content
Content marketing demands that the website content be grammatical, well-researched, and unique. Website content should also be optimized as per the search engine guidelines.
Get 100% original and professionally crafted website content from expert writers. We edit and proofread your blog posts and website articles to ensure they have no grammar and plagiarism issues.
Diverse Expertise
To ensure your blog is authoritative, we assign your content writing project to an expert specialized in your niche market. Whether you are in the medical, technology, retail, or legal field, we will deliver your content writing project. Purchase your website content today from the best content writing service in Kenya and we shall deliver beyond your expectations.
Benefits of Hiring SEO Content Writing Services in Kenya
Hiring expert SEO content writing companies in Nairobi, Kenya such as Nescom Digital, can help businesses to consistently publish quality and engaging content on their websites and social media channels. Original and SEO optimized has proved to be a cost-effective way of generating website visitors and also converting them to real customers.
By engaging with the right content writing agencies in Kenya, businesses can benefit in many ways as highlighted below:
How Our SEO Content Writing Service Works
Buy High-Quality SEO Content

from Nescom Digital
Where To Buy SEO Articles in Kenya
There are plenty of ways to buy SEO-optimized articles in Kenya. The three main avenues are: hiring freelancer writers, purchasing from content mills such as Textbroker or hiring a professional content writing and marketing agency like Nescom Digital. 
Freelance content writers are ideal if you need cheap articles for your website. However, there are no guarantees for the quality of SEO content that freelancer produce. Freelancers typically market their services on multiple channels such as individual websites, social media platform, forums and even through freelance marketplaces. Some freelance marketplaces such as Fiverr, Freelancer and Upwork grade the writers based on feedback from clients but it remains a gamble if you need a long-term solution for your content marketing projects. 
Content mills have also emerged as convenient platforms where both writers and clients can sign up to offer article writing and purchase content respectively. Writers are also graded based on their quality of work and reviews from an internal team of editors. Communication between the writers and clients is limited such that private information such as emails and phone numbers cannot be exchanged. The platform earns the largest share of the project cost. Content mills such as iwriter, Writer Access, Kenya Writers, Textbrokers, etc are ideal for customers who have tight budgets. 
Professional content marketing agencies are ideal for customers who need original, high-quality, SEO optimized content. Clients are free to engage with the content writers openly to ensure their project details are followed precisely. Content writing and marketing agencies such as Nescom Digital are able to hire and vet content writers who are capable of handling complex writing projects for their customers. The only downside with hiring expert content writing agencies is they come at a slightly higher cost but then return on investment (ROI) surpass the cost of services by far.
If you need to hire a content writing agency in Kenya for your next project, Nescom Digital is your best choice. Simply click the "Buy Now" button below, enter your project details and make the payment. Our content writers will complete your articles as per instructions and deliver your content within the agreed timeline.
Content Writing Service – FAQs
What are SEO content writing services in Kenya?
SEO content consists of website articles or blog posts that are optimized for search engines. In order to rank in Google, Bing or any other credible search engine, the website content must focus on search intent, user experience and topical relevance. The written articles should be factual, well researched, have links to internally and externally relevant pages and be thoroughly edited free from plagiarism and grammatical errors..
How much does SEO content writing cost in Kenya?
The price of SEO content writing services in Kenya range between Ksh 5,000 to Ksh 100,000 per article depending on the word count, niche, level of experience of the writer, etc. Generally, experienced content writers in Kenya charge more per page than beginner writers.
How do I hire Content Writers in Kenya
You can hire content writers in Kenya for your SEO articles through content writing agencies such as Nescom Digital.
To purchase premium quality SEO content from Nescom, simply click "BUY NOW" button at the bottom of this page, enter project details and make the payment through MPESA.
What Industry Do You Cover?
We are capable of handling website content for a diverse mix of industries ranging from technology, business, agriculture, retail, etc. Contact us today to learn more.
Do you use AI to write content?
Not at all. Our content is written by human writers and checked thoroughly for grammar, plagiarism and quality by our editors.
Generative AI tools such as Jasper, Copy.ai, ChatGPT, Google Bard, etc are useful writing aids for generating content outlines, optimizing meta descriptions, optimizing introduction and conclusion sections, etc, but should not be used to write entire blog posts or SEO articles.
Will my written articles be unique and SEO friendly?
Your SEO content will be written as per your requirements to ensure they are original and SEO-friendly. Our content writers will follow your preferred writing style and optimize the articles based on your target audience and keywords. The SEO content will be written professionally to deliver long-term and sustainable results.
Above all, the SEO articles and blog posts will be reviewed for quality using writing tools such as Grammarly and Copyscape. 
How to choose the right keywords for SEO articles?
Keyword research determines the success of your SEO efforts. To quickly know the keywords you should use for your articles, analyze your competitors using SEO tools such as Ahrefs, Ubersuggest and also Google Keyword Planner. Some of these SEO tools are paid for but the Google Keyword Planner is free and effective for the job. 
How long should SEO content be?
There is no definite answer to this question. However, blog posts should be written in long-form and should be able to answer all questions in a topic.
How long does it take to complete an order?
Our standard delivery time is 4 days while with our express delivery option, content can be written and delivered within 48 hours
How do you deliver the content?
We deliver the completed articles through your email address in an online word-based document.
How can I contact Nescom Digital?
You can reach us through email, live chat and phone call or SMS.
Email - info @ nescom .co.ke
Telephone - 0710865605
Buy Original SEO Content

from Nescom Digital