Buy and Register .co.ke Domain Name
Buying a .co.ke domain is important for companies or individuals in Kenya as it helps in establishing a credible online presence in the local market. It tells potential customers that you have a genuine business presence in the country., making it more relatable and trustworthy. 
Besides, a co.ke domain can improve search engine rankings for local terms , thus helping your website to gain traffic and build authority in the Kenyan online market.
If you need to buy a .co.ke domain name at a cheap price, Nescom is the right choice!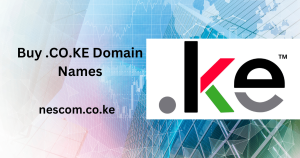 How to Register .CO.KE Domain
To buy and register .co.ke domain, you need to look for a domain registrar accredited by the Kenya Network Information Centre (KeNIC). Most web hosting companies in Kenya provide .co.ke domain registration. However each domain registrar has its own procedure on how to buy .co.ke domain.
In this regard, the procedure given below is applicable for registering a new .co.ke domain at Nescom Technologies.
Visit our domain registration page – https://nescom.co.ke/domain-registration-in-kenya
Type your domain name in the search tool and click on the blue "SEARCH" button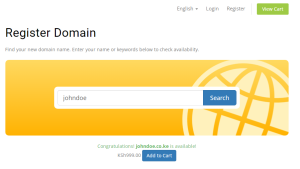 If the domain name is available, the registration system will display "Congratulations! ****.co.ke is available".
Similarly, if your domain name is already taken, the system will display a message in red to show that the "domain is unavailable". In this case, repeat the search process using your potential names until you get a domain name that is available.
3. Click on the Add to Cart button. you may add a web hosting package, otherwise, click on the Checkout button
4. Configure your domain. Check the ID protection box if you need to hide your personal registration details. Add the nameserver details. By default, Nescom nameservers will be autofilled. Otherwise, enter your custom nameserver details.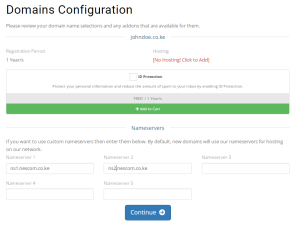 5. Click the Continue button to proceed to the checkout page
6. If you have a coupon code, enter and validate on the Review & Checkout page. The total price for the domain will be displayed on the right panel.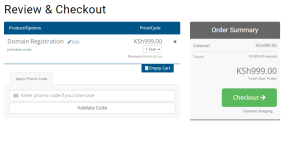 Click on the Checkout button to proceed.
7. On the Checkout page, fill in your personal information, billing address, domain registrant information, your password and select your preferred payment method.
If you are an existing customer, click on the Already Registered button, then proceed to enter your email address and password to login.
Ensure you check the Terms and conditions box and click Complete Order button to proceed.
8. Complete the payment process and check your email for your new .co.ke registration details.
Your .co.ke domain will be ready to use for setting up your emails and website.
.CO.KE Domain Price
The cost of .co.ke domain depends on the number of years you want the domain to be active. Currently, you can register the .co.ke domain for upto 5 years. 
| | 1 Year | 2 Years | 3 Years | 4 Years | 5 Years |
| --- | --- | --- | --- | --- | --- |
| .co.ke registration price | Ksh 999 | Ksh 1998 | Ksh 2998 | Ksh 3998 | Ksh 4998 |
| .co.ke renewal price | Ksh 1000 | Ksh 2000 | Ksh 3000 | Ksh 4000 | Ksh 5000 |
| .co.ke transfer price | - | - | - | - | - |
Factors to Consider When Registering a .CO.KE Domain
Before you begin the .co.ke domain registration process, you need to come up with a suitable name for your brand, company or project. A good domain name is memorable and easy to pronounce. Use the tips below to guide you on choosing the right .co.ke domain name.
The name should be short, easy to spell and pronounce.
Avoid domain names that are already copyrighted by established brands in your industry. 
Do not fall for exact match domains as they have no added advantage in search engine optimization.
Use a keyword in your domain name that is relevant to your business. For instance, if you are trying to register a domain for a school, adding the keyword "school" to your domain is recommended.
Do not use hyphens or numbers. Always remember that your domain name should be easy for your website visitors to type in the URL bar.
If you buying a .co.ke domain for your registered company, use your business name as it appears in the government records.
If you are starting a personal blog, you can use your real names e.g. "JonDoe.co.ke".
.CO.KE Domain Propagation
Domain propagation which is also called DNS propagation is the process of updating new or modified domain name information across the internet's DNS (Domain Name System) servers. For .co.ke, the domain propagation can take between 30 minutes to 48 hours
.CO.KE Domain FAQs
Find answers to frequently asked questions (FAQs) about .co.ke domain names.
What Is a .co.ke Domain Name?
.co.ke is the country code top-level domain (ccTLD) for Kenya, it is used just as other generic domains like .com and .net. It's mostly used by commercial entities with a business presence in the Kenya or targeting customers in the East African country. However, it can be registered by individuals and organizations as well for general purposes.
.co.ke domain is regulated and managed by the Kenya Network Information Centre (KENIC), the designated registry for .KE domains.
It's important to note that the .co.ke domain name is just one of the many domain extensions available for Kenya. Other domain extensions include .ke (the country code), .sc.ke (for schools), .go.ke (for government entities), .ac.ke (for academic institutions), and more.
Who Can Buy .co.ke Domain Names?
The .co.ke domain names can be purchased by businesses, organizations and individuals with physical presence and interests in Kenya. However, the .co.ke domain does not require supporting documents to be submitted during the registration process unlike .go.ke,.sc.ke, and .ac.ke domains.
Are .KE Domains and Web Addresses the Same as .CO.KE Ones?
No, .KE domains is the top-level domain (TLD) for Kenya while .CO.KE is a second-level domain (SLD) within the .KE domain specifically meant for commercial companies operating in Kenya.
What's the difference between .com and co.ke domain names?
.com is a generic top-level domain (gTLD) extension that is used by businesses and organizations globally regardless of their location or nature of operations while .co.ke is a country code top-level domain (ccTLD) specifically designated for commercial entities in Kenya.
Where can one buy and register .co.ke domain names in Kenya?
To buy a .co.ke domain name, you need to go to a registrar accredited by the Kenya Network Information Centre (KENIC) registry. The most popular domain registrars are Truehost Cloud, Hostpinnacle and Kenya Web Experts.