How to Buy Web Hosting and Domain Name
Nescom is a reliable web hosting service provider that offers a wide range of web hosting plans and domain name extensions to cater for the needs of all customers in Kenya and beyond. This guide is helpful to learn how to buy web hosting and domain name from Nescom, whether you want to migrate from your current hosting provider or you want to create your first website.
The guide has been simplified to few steps and also highlights the benefits of buying website hosting plans from Nescom. 
Why Buy Web Hosting and Domain Name from Nescom
Choosing the right web hosting provider is critical in achieving success for your online business. There are currently hundreds of web hosting companies in Kenya but Nescom is recommended as your next provider because of the following advantages:
Highly Reliable Hosting Service
Nescom web hosting service provides 99.99% uptime guarantee due to redundant server architecture, load balancing and advanced failover mechanisms whereby backup servers are automatically switched on incase of a downtime in the primary server.
We offer 24/7 customer support through multiple channels such as live chat, email, telephone(call, SMS), Whatsapp etc. You can reach us anytime of the day for nay assistance regarding our web hosting services or when you are stuck in managing your cpanel account. 
We use LiteSpeed web servers distributed across multiple data centers across the world to achieve a redundant high-performance, highly scalable web hosting experience. The web servers have in-built NVMe solid state drive (SSD) storage and AMD EPYC Processors which ensure faster speeds than traditional hard disk drive. High-performance servers enables customers to handle high traffic to their websites and simultaneously get faster web page load speeds.
We offer money-back guarantee for upto 30 days if you are not satisfied with the web hosting service, no questions asked. 
Our web hosting platform also offers professional email hosting features to help with your business communication. The features include custom domain email addresses, Webmail access, email forwarding, email auto responders, spam filtering, email synchronization, email backup, etc.
The above merits helps Nescom to stand out in the crowded web hosting industry. Learn how to buy web hosting plans from the best provider in Kenya to achieve success in building your website online.
How to Buy Web Hosting and Domain Name from Nescom
This section gives a step by step guide on how to buy web hosting and domain name. 
1. Choose the web hosting plan
Go to the Nescom home page and click on the Hosting tab on the top menu. Then click on the Web Hosting tab in the drop-down menu.
Choose the web hosting plan you need and click the Buy Now button.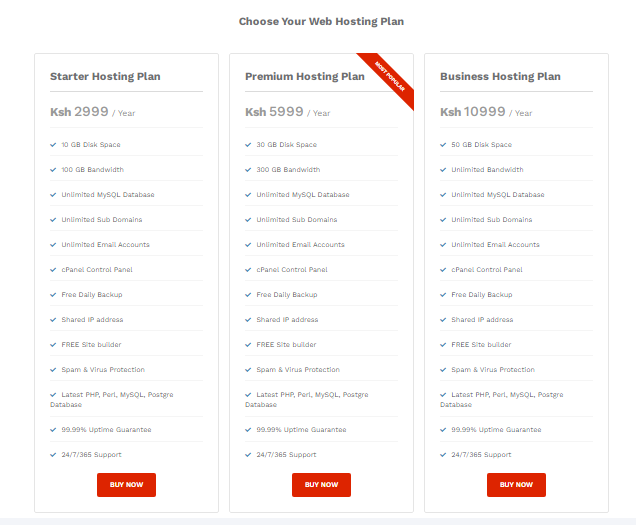 2. Choose A Domain Name
You will be redirected to the page where you will provide the domain name you want to use with your web hosting plan. In this step, you will have three options to enter your domain name.
 You can register a new domain name. Select this option if you need to register an new domain  name through Nescom. Enter your preferred name in the search box and click the Check button. If the domain is available click Continue button.
Transfer your domain from another registrar. Select this option if you already have an existing domain name at a different registrar and you need to transfer it to Nescom. You will need to get an authentication code from your current registrar/web hosting provider to complete this step.
I will use my existing domain and update my nameservers. Select this option if you want to use a domain name that is registered at a different provider without transferring it to us. You will have to update the nameserver details to link the domain to your web hosting plan.

3. Select the Hosting Period
After choosing your domain name, select the hosting period. You can choose the number of years you want your hosting account to be active. Click the Continue button to proceed.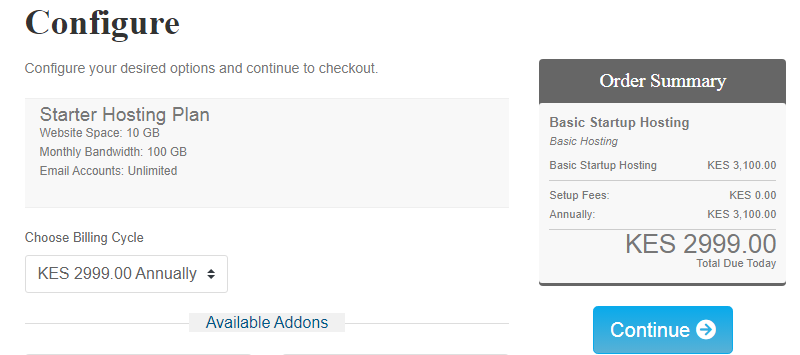 4. Review and Checkout
Review your order and click Checkout button to proceed.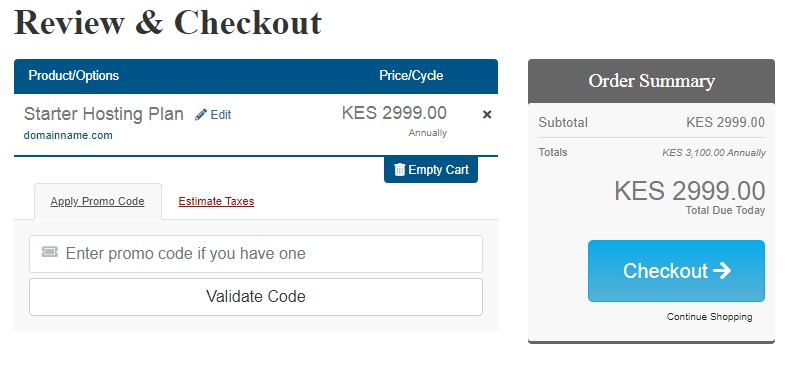 5. Enter Personal Details
On the checkout page, fill in the required information to create a new account on Nescom. If you already have an account with us, click the Already Registered button.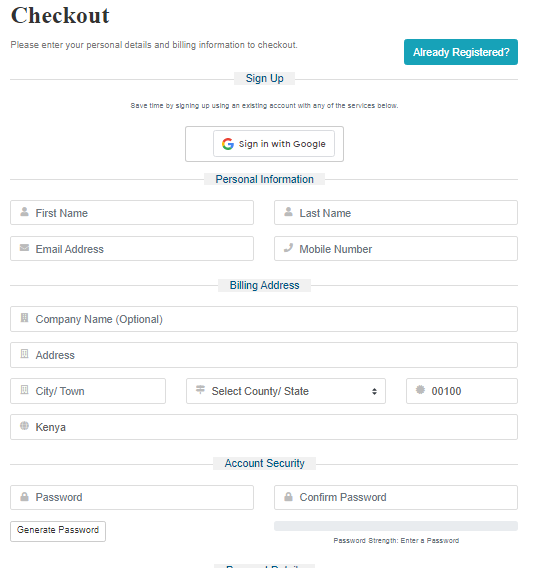 6. Complete Payment
After completing the step above, scroll down the check out page and select the payment method. Check the "I have read and agree to the Terms of Service" and click the Complete Order button. Make the payment using the provided instructions.

Your hosting and domain order will be completed automatically and the hosting account information ( cPanel & FTP login details) will be sent to your email.
After Buying Web Hosting and Domain Name from Nescom, What Next?
After buying your hosting plan and domain name, you can proceed to login the cPanel and configure email accounts, SSL certificate, FTP user accounts, database etc.
You can upload your website files from localhost or create one using website builder tools in the CPanel account.
Conclusion
Nescom is a reliable web hosting provider that can enable you to build your company website, online shop or host your custom emails. If you need to buy a high-performance web hosting plan and domain name, choose Nescom for ultimate hosting experience.  Use this guide to learn how to buy hosting and domain name from Nescom.
How to Buy Web Hosting and Domain Name – FAQs
Is Nescom Reliable for Web Hosting?
Yes. Nescom provides lightning-fast web hosting service with 99.99% uptime guarantee. If you want to host a simple website or high-traffic ecomerce site, we have the right web hosting plan for you. 
Can I Change My Nescom Hosting Plan?
You can upgrade or downgrade your web hosting plan anytime without any downtime of your website. Simply contact our customer care agents to change your plan.
Can I buy web hosting and domain name using MPESA
Yes. You can pay for your hosting plan and domain name using LIPA na MPESA payment option.